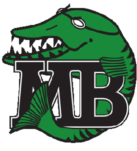 Pool Configuration
25 Yards, 8 Lanes
Team Mascot
Muskies
Board Representative
Dave Moen
Head Swim Coach
Margaret Korb
Head Dive Coach
Matt Munns
Year Joined
1962
Maple Bluff
In 1962, Maple Bluff Country Club became one of the five original teams that established Madison's All-City Swim and Dive League. Currently, the Maple Bluff Muskies hold (10) All City Swim records, and several Maple Bluff alums have gone on to compete in the Olympics, including gold medalists Jim Montgomery and Jay Mortenson.
The grand opening of Maple Bluff's new eight-lane pool, 25 yard lanes and two board diving well occurred in May 2016. The new 8 lane pool and diving well is a fantastic enhancement for the Maple Bluff Muskie team. In addition, the new facility will assist Maple Bluff in hosting the 2017 All City Swim Meet.
Maple Bluff Country Club welcomes any and all families to join the Maple Bluff Muskies Swim & Dive Team. We are proud of the rich tradition, and family friendly atmosphere our club has to offer to all potential Muskie teammates and parents.