2003 All City Swim Meet
Swim Meet - Hosted by the High Point Swim Club
Dive Meet - Hosted by the Seminole Swim Club
Swim Meet - Thursday July 31st through Saturday August 2nd

Thanks to our lead sponsor Capitol Bank
Special thanks to Daniels Construction for their generous help.
Computer & Photo Equipment Use Donated by Gateway
Congratulations to Ridgewood and Hill Farm.
We'll see you back at High Point in 2015!
Thanks to all the teams for the great clean-up they did at their tents before leaving!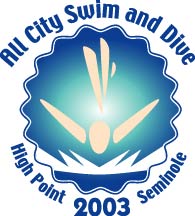 Important Meet Information
Pool Layout
Directions to High Point
USA Swimming Thursday Visit to H.P.
Information for Coaches & Participants
High Point Volunteer Assignments
Schedule of Events, Timeline, and Results
Thursday - 11 & Up Prelims
Friday - 10 & Under Prelims
Saturday - Finals and All Relays
Meet Photos
From Thursday
From Friday
From Saturday
Final Results
Team Standings, Efficiency, and Age Group Results
New All City Records!
Full Results by Age Group
Gold Level Meet Sponsors - Thanks for your support!
Madison Orthodontic Associates
Gleason Quality Appraisal
Madison Family Dental Associates
The Children's Dental Center
1st Choice Dental & Dr. Bill Graf