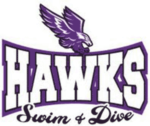 Pool Configuration
25 Yards, 8 Lanes
Team Mascot
Hawks
Board Representative
Patrick Sweeney
Head Swim Coach
Jon Jung
Head Dive Coach
Jack Bell
Year Joined
2006
Hawks Landing
Hawks Landing Pool & Tennis Club opened in the summer of 2004. A small group of community members initiated meetings a couple years prior; for some, these meetings took place before their homes were completed! The 8 lane, 25 yard pool and facilities are owned and run by Jeff Haen. From the very beginning, we were fortunate to have great support for organizing a team. During our inaugural year, the team (~45 swimmers & ~15 divers) participated in two local events and hosted a dual meet and invitational. Hawks petitioned the All City League in 2004. Prior to a league vote, we headed into 2005 with a list of requirements to fulfill; so we continued hosting & participating in events and accomplished all the prerequisites.
We were welcomed to All City in 2006, taking the place of a dissolved Cherokee Country Club. With 60 families, we hosted our first home meet against Middleton. We earned bragging rights in our inaugural year: Hawks Landing won the Food Drive Trophy (2006; runner up 2007) and continue to inspire, challenge and consider it our highest reward. Yet, along with the Food Drive trophy, we are the only team in recent history to send Ridgewood home before noon! (after all…it's all about time) With great pride, our family volunteers continue to organize the most efficient triple/dual meets in the league.
Our athletes experience swimming with an entertaining, knowledgeable, and talented staff; many who continued the sport into college. A small team, with a brief league history, took off in 2009 when the team more than doubled the number of swimmers in the All City finals & won the 8 & Under Girls Age Group Trophy. In 2010 & 2011, the team earned back to back Efficiency Trophies. In 2012, Hawks Landing exceeded league expectations by hosting the main event, "All City Swim," during the hottest summer on record, with a thunderstorm break and paved the way to maximize swim fan seating with the first All City Grandstands! Hawks has been honored to have some the best local coaching staff and management in the area. Without the strength of our foundation (Joel Mensch & Stacey Johansson; Tim Ritchie), it is difficult to believe we would have come this far. When you stop by, be sure to visit the clubhouse and snack shack. Kick back, enjoy the view… the best sunrise & sunset in Madison…We'll see ya on deck!