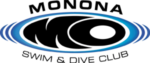 Pool Configuration
25 Meters, 8 Lanes
Team Mascot
Magicians
Board Representative
Liz Hrodey
Head Swim Coach
Kelly Chadesh
Head Dive Coach
Jan Lanser
Year Joined
1965
Monona
The origins of the Monona Swim & Dive Club are lost in the mists that rise from Lake Monona on a cool summer morning, for it was in the lake, at Schluter Beach, that the team first came together to compete. Swimmers raced back and forth between two wooden piers. Shorewood, which also swam in a lake, was a frequent opponent.
Monona's first public pool, an 8-lane metal-sided "Chester In Ground," was built in 1963. By 1965, the swim team had abandoned Schluter Beach for the pool's friendlier confines. Jo Hanson, who worked for the then -Village of Monona- helped the team get established at the pool.
"One of my first memories from that first year of Monona's swim team was how hard they worked, getting up early to practice in such cold water – no heaters back then!" remembered Hanson. "They never got discouraged even though they never won a meet. But oh — how thrilled they were when at the last meet of summer, they scored a little more than 100 points!"
MO first joined the All-City League in 1965, and hosted the All-City Swim Meet in 1972, '79, '86, '95 and 2006. Monona's current pool was built in 1993, just in time for MO to host the 1994 All-City Dive Meet.
The only time MO won the All-City Meet was in 1984, when we beat Ridgewood by just six points: 1,221 to 1,215. That was the year when the MG High School football coach ordered his entire team to sign up for the swim team to stay in shape over the summer. Not only did MO's swimmers win All-City that year, but the MG football team won the State Championship as well!
Monona Swim & Dive Club is unique among All-City teams in that we are not officially affiliated with our home pool. We are a non-profit club that rents pool time from the City, which owns the pool. MO typically has close to 300 members – welcoming families from Monona, Madison, Cottage Grove, McFarland and beyond.