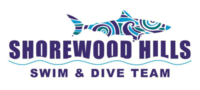 Pool Configuration
50 Meters, 10 Lanes
25 Yards, 10 Lanes (for meets)
Team Mascot
Sharks
Board Representative
Kip Schick
Head Swim Coach
Jackie House
Joe Cranley
Head Dive Coach
Molly Hampton
Year Joined
1962
Shorewood Hills
The Shorewood Hills Swim and Dive Team is part of the Shorewood Hills Pool. The Shorewood Hills Sharks are a founding member of the All City Swim and Dive League, which formed in 1962, and has been a part of the local swimming and diving community in Madison for more than 50 years. The Shorewood Hills pool offers the only outdoor 50 meter pool in the Madison area that is used as 8 lane, 25 yard pool for swim meets and also has two 1 meter diving boards for diving competitions.
Swim and dive team members are members of the Shorewood Hills pool and members have no residency restrictions; in fact, more than 50% of our members live outside of Shorewood Hills. Shorewood Hills has one of the largest teams in the All City League with more than 300 swimmers and 30 divers.
After finishing in 2nd place on numerous occasions, Shorewood Hills won its first All City Swim Meet at the 2014 All City Swim Meet at Nakoma. The Shorewood Hills Swim and Dive Team is known for its love of bagels and its numerous cheers that end with our team motto: YEE! We encourage interested families to contact the Shorewood Pool if you are interested in joining our pool and our swim/dive teams!